Local 445

Members Information
OFFICER NOMINATIONS – May 20, 2021 – Virtual  OFFICER ELECTIONS – June 17, 2021 – in person 
Special Called Meeting on May 20, 2021 at 7:30pm for Virtual Nominations for the Election of President, Vice President, Financial Secretary, Recording Secretary, Treasurer, Warden, Conductor, 3 Trustees and 7 Delegates to Council.  The candidates coming in 8th & 9th in votes will be Alternate Delegates to Council.
To received the link for our Virtual Meetings, please email your current email address, UBC# and Full Name to carpenterslu445@gmail.com
Special Called Meeting on June 17, 2021 for the Election of all Officers of the Executive Committee as listed above.   CDC REGULATIONS WILL BE FOLLOWED in this IN PERSON vote. Members running for office must be in GOOD STANDINGS for one year to the date of Election Day, all members wanting to vote must be in GOOD STANDINGS.
POLLS will OPEN at 4:00PM on Election Day & CLOSE at 7:00PM.
information for pa employees impacted by covid-19
If you are employed in Pennsylvania and are unable to work because of Coronavirus disease COVID-19 you MAY BE eligible for Unemployment or Workers' Compensation benefits.   Click on the link below for further details
https://www.uc.pa.gov/Pages/covid19.aspx 
 EASTERN ATLANTIC STATES REGIONAL COUNCIL OF CARPENTERS
Please visit our Council website for the latest up-to-date information available.
EAS Carpenters Council 

Member Assistance program (MAP

)
We all need a helping hand from time to time. As members of the Eastern Atlantic States Regional Council of Carpenters, you can apply for assistance through our Member Assistance Program (MAP). Under this program, members can qualify for assistance with dues or costs incurred as a result of a catastrophic event.  Click on the link below for additional details.
 https://eascarpenters.org/member-assistance-program/
MiX 2020 Referral List
Members MUST CALL 1-800-735-1829 to place themselves on the Referral List for work opportunities. 
REMEMBER you MUST CALL IN EVERY 30 DAYS to maintain your position on the referral list.  Not once a month.
MiX 2020 Member Log ON
https://www.mix2020.com/member/eas
Members can view their Skills, Work History, Union Participation (MUPS), Work Areas they selected, and Contact Info. 
VERY IMPORTANT – If you update your phone number or email PLEASE REMEMBER to call Local 445's Office and inform them of your new phone number or email.
The Eastern Atlantic States Regional Council of Carpenters Scholarship Fund
The Eastern Atlantic States Regional Council of Carpenters Scholarship Fund was created to help union families with paying for college education for their children.  Education is what sets union carpenters apart from the rest. Our support of education regardless of what form it takes is an integral part of our union values.   
For additional information, eligibility requirements, and to apply click on the link below.  
 https://eascarpenters.org/scholarship/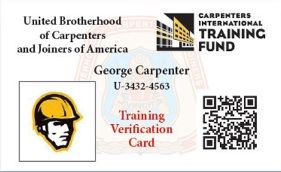 DID YOU KNOW YOUR TRAINING VERIFICATION CARD CAN BE ACCESSED ON YOUR PHONE?
Simply download the UBC Mobile App from your App Store today.